Blue Team (24/38/42)

Level
KDA
Keystone
Summoners
Final Items
Gold

다를 게 없어요
14

2

/

8

/

7

8.1k

By 불비
14

2

/

12

/

6

9.4k

Jin Air Stitch
14

5

/

8

/

9

11.6k

호잇이
13

3

/

4

/

15

8k

만번의슬픔
14

12

/

6

/

5

13.2k
Red Team (38/24/46)

Level
KDA
Keystone
Summoners
Final Items
Gold

TongjifanXD
13

0

/

8

/

15

9.5k

KZ Rascal
17

7

/

6

/

10

14.4k

너와나의연결Gori
17

10

/

3

/

2

13.9k

thgink9
17

11

/

2

/

12

14.7k

Dingchenyu2
15

10

/

5

/

7

14.1k
Items(

11567 Gold Earned

)
Final Items
Blade of the Ruined King

The Black Cleaver

Essence Reaver

Control Ward

Doran's Shield

Berserker's Greaves

Farsight Alteration
Summoner Spells
Flash

Heal
Buy Order
0:08

0:08

0:09

4:16

4:17

4:18

8:11

8:12

8:12

8:15

11:41

11:45

11:46

11:46

13:35

13:36

13:52

13:53

14:14

14:15

14:16

17:54

19:37

19:37

19:46

20:33

20:35

22:04

27:17

27:17
Abilities
| | | | | | | | | | | | | | | | | | | |
| --- | --- | --- | --- | --- | --- | --- | --- | --- | --- | --- | --- | --- | --- | --- | --- | --- | --- | --- |
| Piercing Light | 1 | 2 | 3 | 4 | 5 | 6 | 7 | 8 | 9 | 10 | 11 | 12 | 13 | 14 | 15 | 16 | 17 | 18 |
| Ardent Blaze | 1 | 2 | 3 | 4 | 5 | 6 | 7 | 8 | 9 | 10 | 11 | 12 | 13 | 14 | 15 | 16 | 17 | 18 |
| Relentless Pursuit | 1 | 2 | 3 | 4 | 5 | 6 | 7 | 8 | 9 | 10 | 11 | 12 | 13 | 14 | 15 | 16 | 17 | 18 |
| The Culling | 1 | 2 | 3 | 4 | 5 | 6 | 7 | 8 | 9 | 10 | 11 | 12 | 13 | 14 | 15 | 16 | 17 | 18 |
Runes Reforged
1
Precision
Become a Legend
Improved attacks and sustained damage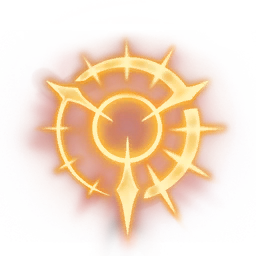 1
Press the Attack
Hitting an enemy champion 3 consecutive times makes them vulnerable, dealing bonus damage and causing them to take more damage from all sources for 6s.

1
Overheal
Excess healing on you becomes a shield.
1
Legend: Alacrity
Takedowns on enemies grant permanent Attack Speed.

1
Coup de Grace
Deal more damage to low health enemy champions.
2
Sorcery
Unleash Destruction
Empowered abilities and resource manipulation

1-2
Manaflow Band
Hitting an enemy champion with an ability permanently increases your maximum mana by 25, up to 250 mana.

After reaching 250 bonus mana, restore 1% of your missing mana every 5 seconds.

2-3
Absolute Focus
While above 70% health, gain extra adaptive damage.
Attack Speed
+9% Attack Speed
Adaptive Force
+6 AD or +10 AP